Widow of heart surgeon killed in one-punch attack sues Melbourne hospital
The Age
David Estcourt
June 4 2010
Mr Pritzwald-Stegmann, 41, suffered fatal head injuries when he was struck by 24-year-old Joseph Esmaili in the foyer of Box Hill Hospital in May 2017. His life support was turned off four weeks later on June 28.
The pair had a confrontation after Mr Pritzwald-Stegmann, a cardiothoracic surgeon who treated patients with lung cancer, asked his young attacker to stop smoking in a non-smoking area.
She alleges the hospital failed to provide a safe workplace and also failed to take reasonable steps to avoid exposing the heart surgeon to the unnecessary risks which eventually killed him, according to a writ filed this month.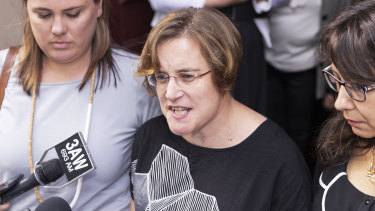 The lawsuit is estimated to be worth millions, given Mr Pritzwald-Stegmann was earning approximately $700,000 per year, including the income from his private practice as a cardiothoracic surgeon.
The writ also says other dangerous incidents occurred at Box Hill Hospital in the three years prior to the assault, and alleges the hospital failed to conduct adequate safety reviews in the wake of other incidents.
Ms Baumberg has mental health conditions including post-traumatic stress disorder and her ability to work has suffered, the documents say.
The widow is claiming for the mental distress she and her twin daughters suffered while her husband was in a coma following the attack, and the anxiety and depression they have felt since his death.
Last year, Esmaili became the first person in Victoria to receive a mandatory minimum 10-year prison sentence for delivering the blow that killed Mr Pritzwald-Stegmann.
A man who killed a surgeon at a Melbourne hospital has become the first person to receive a mandatory minimum 10-year sentence under Victoria's 'coward punch' laws
At the time Ms Baumberg called on the Victorian government and the state's hospitals to do more to properly enforce smoking bans outside health facilities.
"He should have been safe at work," she said.
Esmaili's crime had caused a grief so powerful it winded her and she constantly missed the "most capable person I have ever met".
"Patrick always had my back. I have lost my confidant, my biggest supporter and my rock," she said.
The writ also alleges that Mr Pritzwald-Stegmann was not adequately educated about code grey procedures, designed to quickly activate security personnel when someone on hospital grounds becomes violent or threatening.
Following Mr Pritzwald-Stegmann's death, some hospitals reviewed their code grey procedures.
In a statement, Eastern Health said it was reviewing the legal material and would respond via its usual process.
"The tragic death of Patrick deeply impacted many of the people here at Eastern Health and the wider community," chief executive David Plunkett said.
"This was a terrible incident and we again extend our deepest condolences to his wife and family."
Esmaili was on bail when he struck and killed Mr Pritzwald-Stegmann, and earlier this year lost an appeal to reduce his 10-year sentence.
with AAP