'Don't ask me for compassion': Angry Anderson has not forgiven his son's killer
Rock star Angry Anderson does not forgive his son's killer, believing that Mathew Flame murdered 26-year-old Liam two years ago and a drug-induced psychosis did not absolve the man of responsibility.
Speaking out after a jury spared Flame a murder conviction on Thursday, instead finding him guilty of manslaughter, Mr Anderson said no one had forced the 22-year-old to take up to 10 MDMA capsules the night he bashed his friend Liam in a park on the northern beaches.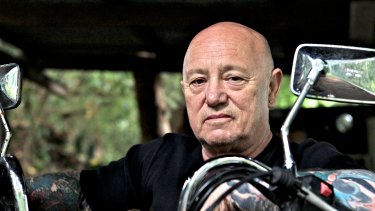 The Rose Tattoo frontman's unwavering condemnation of Flame contrasts with the reaction of Lindy Anderson, Liam's mother and Angry's ex-wife, who embraced Flame in the court room after the verdict this week and said she forgave him for the fatal bashing in November 2018.
Mr Anderson said anybody who chose to take drugs and then committed a crime was "totally responsible" for their actions, including Flame, whose frenzy of violence had cut short someone's life.
"There's no excuse, as far as I'm concerned. Psychotic? Yes. Self-induced," he said.
"They say, 'Well, he didn't know what he was doing.' Big deal. Don't ask me for sympathy, don't ask me for compassion. He took drugs and he killed my son," he said.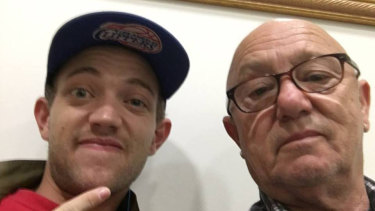 Flame consumed eight to 10 MDMA capsules on the night out, as well as alcohol and cannabis. When he left a friend's house in Queenscliff in the early hours of the morning, Liam followed to make sure his friend was okay. Soon after, a witness saw Flame stomping ferociously on Liam's head in a nearby park and inflicting fatal blows.
Flame did not deny in the trial that he killed Liam, but argued he did not murder him, because he was experiencing a psychotic episode caused by schizophrenia and believed his friend was a demon who wanted to kill him. Prosecutors argued the behaviour was caused by the large quantity of MDMA and not the schizophrenia that was diagnosed following the attack.
Reflecting on the arguments, Mr Anderson said anyone voluntarily taking "mind-altering, mood-altering" drugs had to own the consequences.
"As far as I'm concerned, he is the person that murdered my child. End of story," he said.
"He overdosed. He took 10 [capsules] on that night ... And he ended someone's life. In my eyes, he is totally responsible. And if it was somebody else's child I would feel exactly the same way."
Mr Anderson, lead singer of the Australian hard rock band Rose Tattoo since the 1970s, said the music industry was full of drugs and alcohol but he had made a personal decision when his daughter was born in the 1980s to be more responsible and clean up his act.
Mr Anderson said he was not criticising the justice system or the jury's verdict on Flame, which he said had at least acknowledged the man committed a crime.
After a three-week trial, the jury accepted that Flame was impaired but did not have a disease of the mind when he killed Liam, which warranted his liability for murder being reduced to manslaughter. He will be sentenced in the NSW Supreme Court in December.
Speaking outside court on Thursday, his lawyer Leonie Gittani said her client was feeling "a bit emotional" and he was moved by the hug from Liam's mother.
"It's been a tough journey for him, and a tough journey for everyone," Ms Gittani said.
A grieving Lindy Anderson told the assembled media outside that there were no winners.